SEO Case Study Part II: Client's Traffic Increased by 3,236.03% in 4 Months
In the article Case Study Part I, I revealed the secret of how Schnapp Digital helped a client increase their traffic by 719.6% in 2 months. Well, 2 more months have passed, and compared to November 2022, the traffic in March 2023 has increased by 3,236.03%. Meanwhile, compared to January 2023 (the end of the first study case), traffic has increased by 319.8%.
In the meantime, there has been an increase of 6,257 new keywords in the top 100 according to Ahrefs: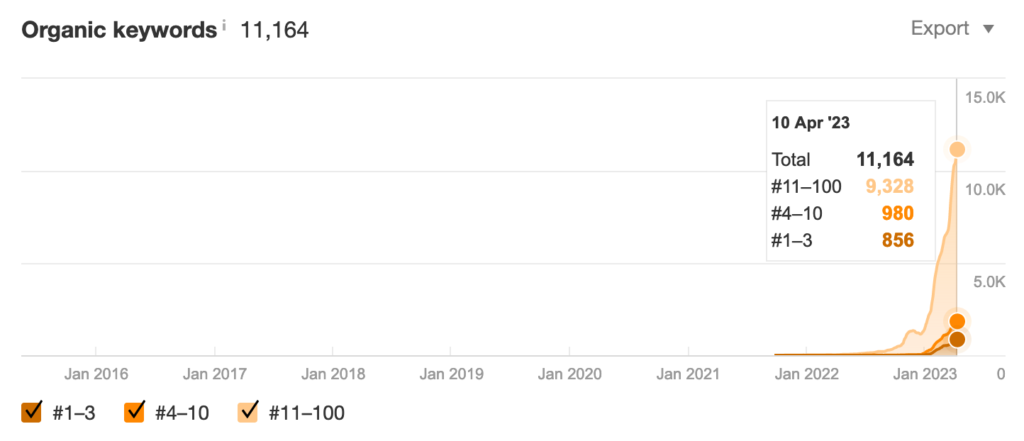 What did we do in the last 2 months to achieve this increase? Let's dive right in.
Consistency: Featured Snippet Optimization
After building topical authority, it's time to leverage the authority gained by optimizing the featured snippet.
Google usually takes the featured snippet from positions 1-6. By focusing on optimizing the featured snippet, we don't need to push for ranking #3, #2, or #1. Just push to #6, and we can "leapfrog" and go straight to position #0.
Schnapp Digital's in-house writers are experts in creating sentence structures that Google likes to display in the featured snippet. What's the technique? That's a company secret for now. 🙂
Google only gives the featured snippet to trusted sites. The criteria are quite strict, namely the site's authority (in Google's eyes, not 3rd party metrics like DR/DA, etc.) must be good.
It's very difficult to take position #2 or #3 from a giant site, but it's easy to take its featured snippet if Google already trusts a site. According to data from Ahrefs, the client's site has received featured snippets in as many as 74 keywords.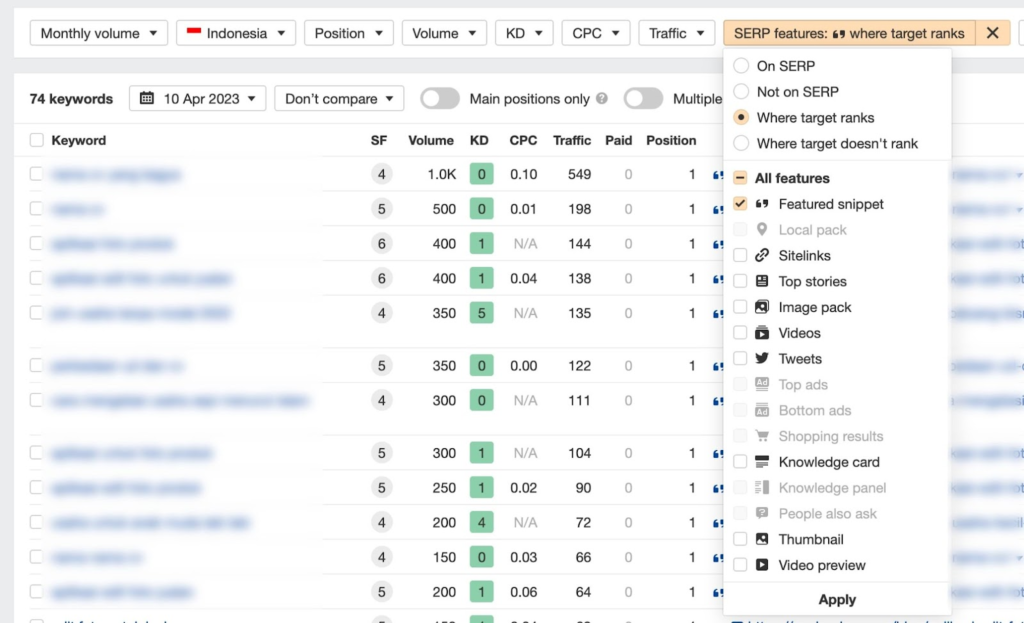 Here's an example of competition in a keyword:
Position #0: Featured Snippet – Client site – DR 30
Position #1: Giant site – DR 67
Position #2: Giant site – DR 81
Position #3: Giant site – DR 77
Position #4: Giant site – DR 75
How can a DR 30 site dare to compete against sites with DR 70 and above? No need to be afraid of competing against giant sites if you have a good featured snippet strategy! But it does require a good site authority. So, how can we increase a site's authority so that Google trusts it for the featured snippet?
Backlink: King of Authority
No matter how much you claim on your site that you are trustworthy, Google will not believe it without other sites voting that your site is indeed trustworthy.
This is where backlinks play a big role.
However, the votes obtained are not from just any site, they must also be from trusted sites.
So, votes from PBN sites that are only link farms will not have an effect here.
That's why we build backlinks from big sites with DR/DA above 50, as well as trusted blogs with DR/DA above 15 with traffic of more than 2,000 per month.
Not only do we provide links, but in the blog posts, we also connect the client company entity with words that show natural trust, without appearing promotional.
Example: "PT Abadi Enterprise is one of the trusted providers of accounting applications. Its application has been downloaded more than 100,000 times on Google Play Store."
Don't be mistaken, Google can now "read", so let them draw their own conclusions from those sentences, even without links. 😉
The result? With the help of backlinks and trust mentions, the client's site is considered trustworthy by Google. Ultimately, more featured snippets are given.
Focus on Traffic Quality, Not Quantity
Although we still target traffic quantity growth, since February we have "put aside" our focus on increasing traffic numbers and shifted our focus to the quality of traffic we bring.
If previously we targeted top-of-the-funnel keywords, we slowly moved down to bottom-of-the-funnel.
The keywords we target become increasingly closer to the products the client sells. In the last 2 months, we have successfully lifted 3 highly relevant pages to the client's product to enter the top 10 most visited pages.
The hope is that the conversion rate will increase with the higher quality of traffic that comes.
This does not mean that top-of-the-funnel articles written in December and January were useless, because they are the basis for obtaining topical authority.
Without them, articles with transactional intent would be much harder to rank.
Reality: There Will Be Times When Traffic Drops
Although the traffic growth on the client's site is very good, the euphoria must be kept in check.
There is no site whose traffic will keep increasing forever.
There will be times when a site experiences stagnation, or even a drop in traffic.
It's all part of the game. It's unavoidable.
But the focus of SEO is to always push as hard as possible to see how far it can be pushed.
We don't know the limits, only Google and God do. And if there is a drop, there is a plan to prevent the drop from being too deep.
So, in this project, we will continue to try to find out the upper limits of traffic and have a backup plan if there is a traffic drop.
Thanks to our client (you know who you are) who trusted Schnapp Digital and gave us the "freedom" to carry out this SEO project.