SEO Case Study: Client's Traffic Increased by 719.6% in 2 Months
In this article, I will reveal how Schnapp Digital helped a client who had experienced stagnant traffic for the past 6 months.
We were able to increase the client's website traffic by 719.6% in just 2 months (and it continues to grow).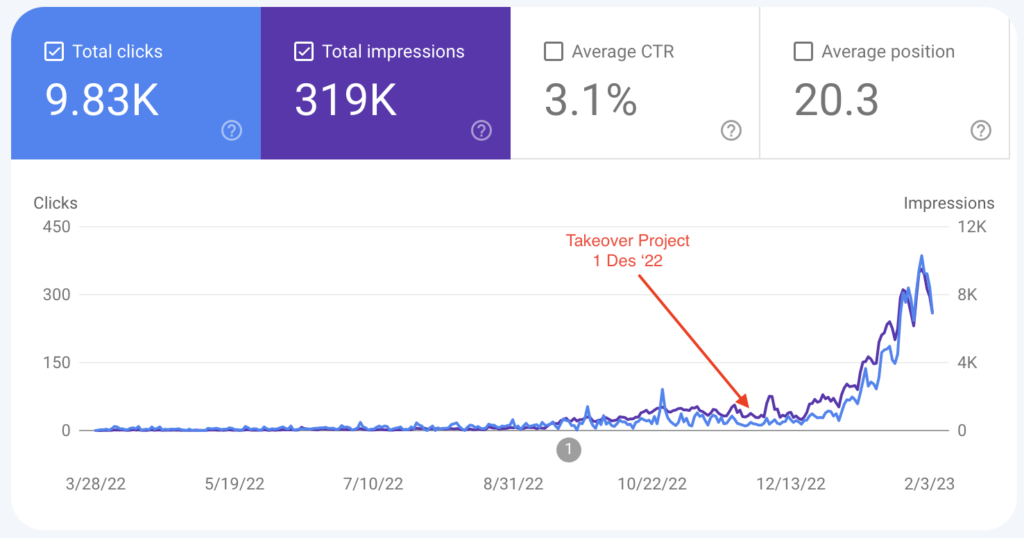 The Project's Background
For the past 6 months, the SEO of the client's website was handled by a multinational agency.
However, the traffic growth was not as expected.
As a result, the client decided to look for a new agency that could address this issue.
Long story short, they decided to use the services of Schnapp Digital to manage their SEO project.
We at Schnapp Digital are very excited to work on this project, as there is an interesting challenge of finding new ways to address the long-standing stagnant traffic issue.
At Schnapp Digital, we are not just looking for projects, but also for excitement and to help clients achieve their business objectives.
Challenges
The first step we took, of course, was to conduct an SEO audit. We thoroughly examined the client's website to analyze what problems were causing their traffic to not grow as expected.
Here are some problems that we have found:
Articles that are too short, only about 500-600 words per article. To build topical authority, longer articles are needed to demonstrate authoritativeness.
Too few articles in quantity. Again, regarding authority, a site needs to cover various aspects of a topic to be considered an authority on that topic.
Poor internal linking. Many articles have no internal links at all, and if they do, the placement and anchors are very poor.
Technical SEO that is less than optimal, such as missing meta keywords, improper heading tags, images that are too large, and trailing slashes that are not redirected.
On the other hand, we have to direct the traffic based on the client's target consumers. Surely, it will be useless if the website traffic can't be converted into sales and profit.
Initial Action Plan
Starting from the challenges at the beginning, we need to form an initial action plan.
It's useless to keep publishing content if the existing problems are not addressed.
We want no "burden" to hinder future growth.
First remove negative things before building positive things. Via negativa.
Here are some things we did:
Rewrite old articles. We checked the performance of old articles in GSC. If the traffic is low and doesn't get ranking, we rewrite the article. Not just adding words, but really creating a new article to replace it. We also added appropriate internal linkings to the old articles.
Re-optimize landing pages. Initially, the landing page on the product page was still not optimally optimized. We provided some suggestions to make the landing page more proper in terms of SEO.
Fix technical SEO. We made sure there were no critical errors. We also made sure the site could be easily crawled by Google.
Improve E-A-T, such as schema improvements, adding an author box, and better article formatting.
Keyword Research and New Content Clusters
After fixing the above issues, it's time to build new content clusters.
In the first 3 months, keyword research must be done very carefully.
In this phase, we only choose keywords that we are confident can enter page 1. The requirement is that page 1 is not filled with sites with DR > 50 and there are sites with DR < 15 ranking in the top 3.
This is the capital to make Google trust this client site. If it is trusted in small keywords, it will be easier to get good rankings in bigger keywords.
This is where the expertise of the Schnapp Digital SEO team in keyword research is visible.
The Schnapp Digital team managed to find low-competition keywords but with high search volume and in line with the client's topic and business objectives.
Keyword research does take a lot of time, but if done correctly, the effect will be amazing.
The keywords we found were then carefully placed into the content clusters we wanted to build.
At the beginning, we didn't want to cover too many different topics, but focused on a few topics to force Google to recognize the client site as an expert in those topics.
All articles were written by in-house content writers from Schnapp Digital, who I am very proud of because their writing is always of high quality and proper in terms of SEO.
Link Building Strategy
Quality content, when supported by the right link building strategy, can yield powerful results.
To this day, I still laugh when I see people claim that backlinks are not necessary. What's the reason for that? To make the agency's margin bigger? Hahaha.
At Schnapp Digital, we focus on the quality of backlinks, not the quantity.
One quality backlink is far more powerful than dozens of low-quality backlinks.
For this client, we build 4 backlinks each month. They are all in the form of guest posts from high-quality and relevant sites.
We curate the sites very carefully, as well as the anchor text, backlink goals, and guest post titles that we choose.
The result is that 4 backlinks per month are much more powerful than those who promise 50 backlinks per month, but they're all from PBNs.
Issues in The First Month
In the first month, we encountered some challenges that we had to solve immediately.
Every time we published an article, we monitored it until it gained ranking.
The problem was that many articles that we published were only indexed by Google after 5 days and gained ranking after 2 weeks.
This is bad news.
This indicates that Google does not yet trust the client's website. The website is not considered important, so it is rarely crawled, slow to index, and slow to rank.
We overcame this by accelerating the rewriting of old articles because poor historical data makes it harder for Google to trust the website.
We continued to publish articles and build backlinks, and we believed that the problem would soon be resolved.
True enough, in the first week of the second month, articles were indexed in just 1 day, and some articles gained ranking on the first page in less than 24 hours.
This means that the trust issue with Google has been resolved, and Google has begun to consider the client's website as a reliable source of information.
Ranking Growth
Based on Ahrefs, the client's website has gained rankings of 1-3 for 293 keywords, compared to only 8 keywords when we took over the project.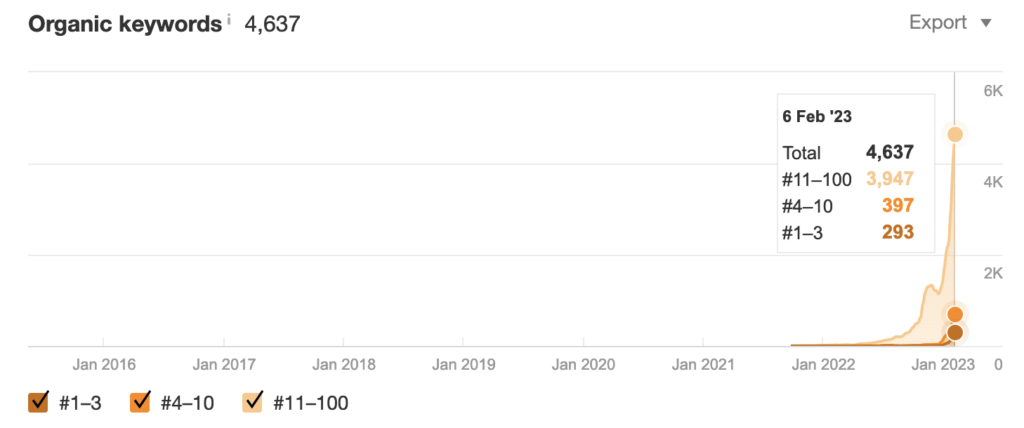 Yes, getting 250+ top 3 rankings and 690+ top 10 rankings in 2 months is very possible.
Our focus is not only on getting the rankings, but also on how to maintain them and use them as leverage to get rankings for other keywords.
Why Are We Open About SEO Strategies?
Aren't you afraid that your strategy will be copied by other agencies? Or that clients will hire in-house SEOs using this strategy?
No.
Theory is easy. Execution is difficult.
Besides, the strategy we use for each client is different. There are no identical SEO challenges, so the solution will also be different.
What we use for this client is very different from the strategy we use for other clients.
The strategy must be customized, depending on the circumstances and needs.
The above is also only a broad strategy, and we do not share all the details. For example, I did not provide the full details on the secret sauce for writing articles.
The strategy in the first 3 months will also be very different from the later months.
At Schnapp Digital, we are SEO artisans. We love the game, and we love to see our client's business grow.